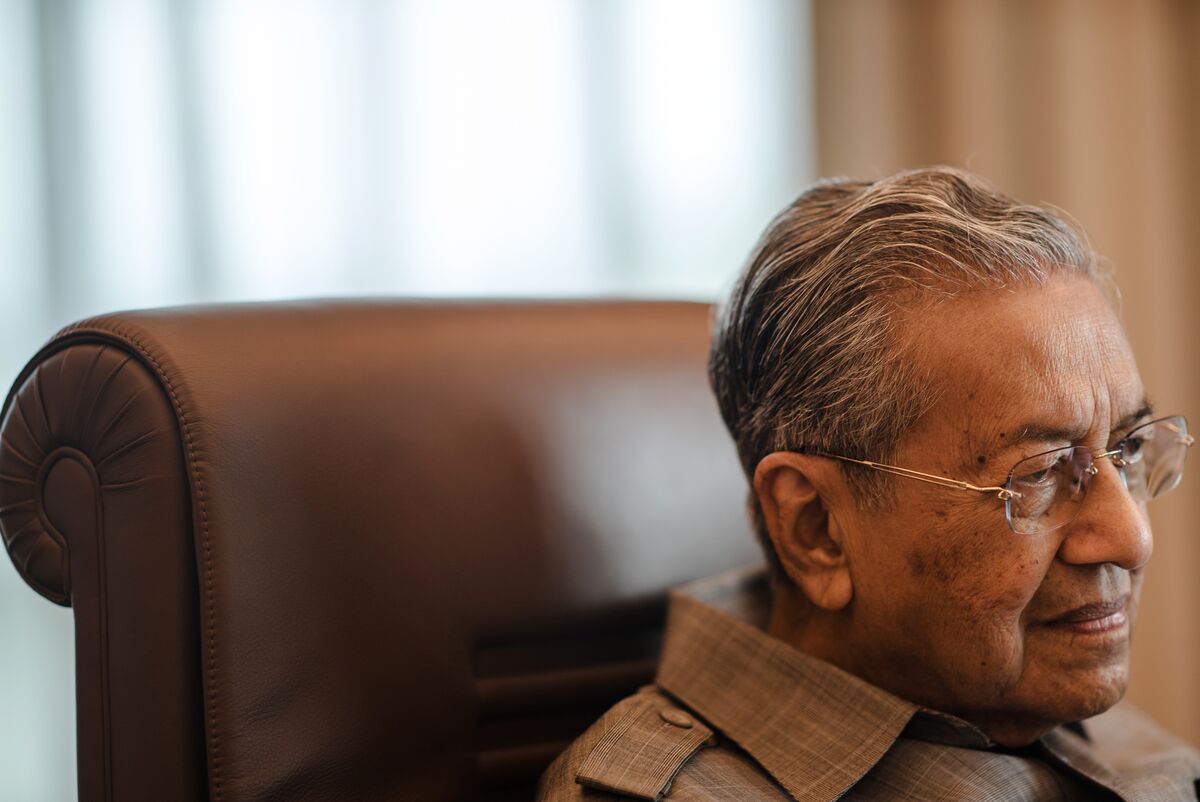 Malaysian opposition leader Mahathir Mohamad is under investigation for a potential breach of a new fake news law, less than a week before an election that has him vying with Prime Minister Najib Razak for the crucial votes of ethnic Malays.
Mahathir, a former premier who was the country's longest-serving leader, has not been charged. A probe is ongoing, Kuala Lumpur police chief Mazlan Lazim said on Thursday by phone, without elaborating.
"They can charge me in court," Mahathir was quoted as saying in the
Star newspaper. "I have no fake news. Only truth."
A spokesman in Mahathir's office declined to comment.
The investigation follows a statement by Mahathir last Friday that a chartered plane due to take him to the northern island of Langkawi, where he is campaigning for a parliamentary seat, was tampered with so that it was unable to fly. The Civil Aviation Authority of Malaysia concluded there was no indication of sabotage and that the plane suffered an air leak from a wheel. He later traveled to Langkawi in time for the nomination deadline on Saturday.
Mahathir split from Najib's coalition in 2016 amid a falling out with the premier over issues including the handling of a financial scandal at a state investment fund, and has since formed his own party within the opposition alliance. He's seeking to unseat the United Malays National Organisation, a party that has held power since independence in 1957 with the support of ethnic Malay voters in the predominantly Muslim nation.
Opposition Bans
Mahathir might represent the opposition's best chance yet, given his potential to draw Malays away from the UMNO-led Barisan Nasional coalition. Najib in turn has painted the opposition as a "motley collection of parties" that have little in common and would struggle to work together in office. Barisan Nasional lost the popular vote for the first time in the 2013 election while retaining a slim majority of seats.
In the lead up to the May 9 vote, Mahathir has seen a ban on the opposition coalition Pakatan Harapan using its own logo or his photos in campaign materials. His party faced a 30-
day prohibition on campaigning for not providing the correct documents to authorities, though that has since been suspended by a court order.
law against fake news in April with maximum punishments of six years in prison and a 500,000 ringgit ($127,000) fine for anyone who "maliciously" creates and distributes false information related to the country or its citizens. The law applies to anyone inside or outside Malaysia, regardless of nationality or citizenship.
Najib launched a website called TheRakyat, or "The People," in January. The portal is aimed at battling the opposition coalition and fake news, which he said damaged UMNO's campaign in 2013. During the launch he cited rumors of power outages at voting booths and the suggestion that some votes were therefore not counted in the previous ballot.
Asked in an interview last month if the law could
be used to limit dissent, Najib said Malaysia's social media is "freer than many countries.''
"You can criticize the government, you can say we disagree with the government, you can say don't vote for the government, and that's alright," he said. "I mean, I can accept it."
阅读更多