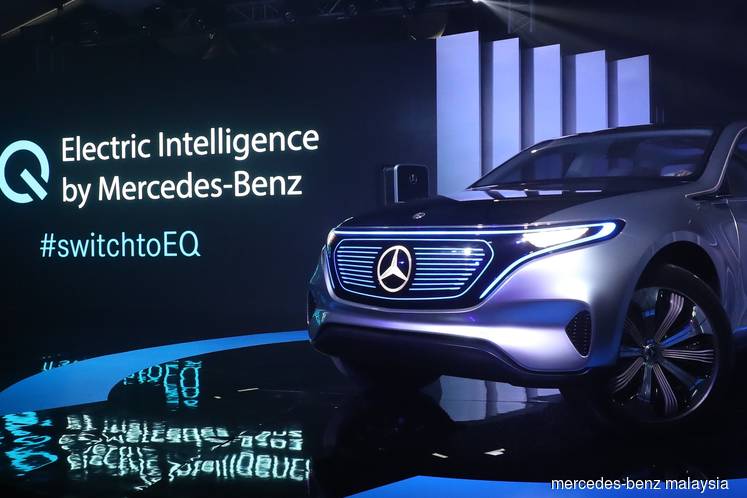 KUALA LUMPUR (May 3): Mercedes-Benz Malaysia (MBM), which today unveiled its concept car — the Concept EQ — said hybrid vehicles accounted for around 20% of the 12,045 vehicle units it sold in Malaysia last year.
MBM President and CEO Dr Claus Weidner added that the automaker is looking at any possibilities and opportunities to bring more hybrid cars into the market as soon as possible.
It will also introduce its fourth EQ electric vehicle (EV) charging station facility in the Klang Valley at the Waterfront in Desa Park City adding to existing Mercedes-Benz EQ charging stations at Bangsar Shopping Centre, Sunway Pyramid and Pavilion KL.
However, Weidner said MBM will not limit the number of its EV charging stations to the Klang Valley.
"We will look at our potentials and around customer demands and also on the sales of our cars which are nationwide," he added today at the unveiling of the Concept EQ for the first time in Malaysia and Southeast Asia.
EQ stands for Electric Intelligence which is derived from the brand values of emotion and intelligence, the German automaker said.
MBM said the Concept EQ represents the beginning of EQ — a holistic approach to future mobility with a comprehensive suite of services, technologies and innovations while EQ joins the brand portfolio alongside Mercedes-AMG and Mercedes-Maybach.
"More than just design study, the Concept EQ serves as a revolutionary approach to interior ergonomics, connectivity, and electric vehicle architecture and drive systems alongside autonomous features," MBM added.
"With the four pillars of connectivity, autonomous driving, shared & services as well as electric drivetrains, the Concept EQ shows Mercedes-Benz's commitment to being the industry leader in future mobility.
"It encompasses all major aspects of customer-oriented electric mobility, and goes beyond the vehicle itself.
"As such, EQ offers a comprehensive electric mobility ecosystem of products, services, technologies and innovations. As the premium market leader, we are committed to remaining an industry pioneer with state-of-the-art products and innovations," said Weidner at the premiere of the Concept EQ.
Mercedes-Benz's new generation of EVs will be based on architecture developed specifically for battery-electric models, which is scalable in every respect and usable across all models.
The basic architecture will also be suitable for SUVs, saloons, coupés and other model series.
阅读更多