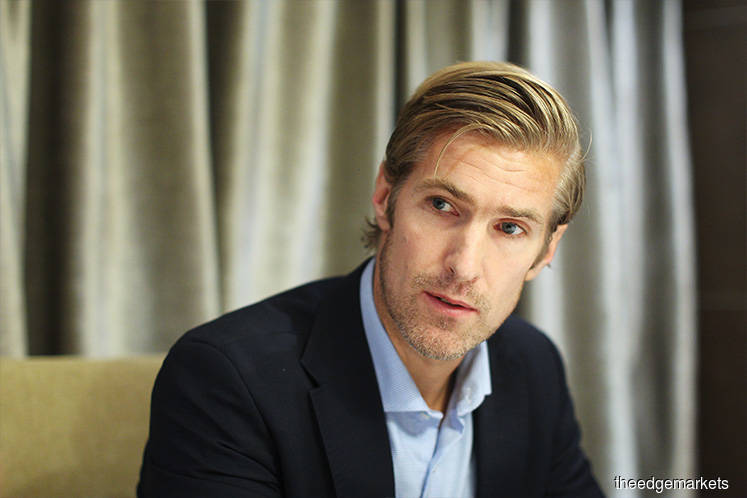 KUALA LUMPUR: Nowadays businesses no longer see information technology as merely a cost component. As return on investments (RoI) on IT improves — such as how remote working, cloud computing or Internet of Things improve productivity — IT spending too, has expanded from under 5% of total cost base to a double-digit rate.
However, many Malaysian companies still need help when deciding on the right IT investment decisions, said Norway-based IT asset management firm Crayon Group Holding ASA. The group sees a promising market here, and is doubling down on its three-year old Malaysian footprint, and is eyeing acquisition of local talents with the same expertise.
"There is a bigger value creation potential like Malaysia, compared with the west, where the markets are more mature. Relatively low cloud penetration is one example," Crayon group chief executive officer Torgrim Takle (pic) told The Edge Financial Daily.
"The infrastructure is here, but companies still see complexity in the changes they need to make to really reap the benefit of cloud and digital transformation. That is really where Crayon is adding value," Takle said.
Crayon assists businesses in getting the best return on their digital investments in multiple aspects, including building the business case, technical assessment, assisting in digital migration and helping to maintain the solution going forward.
"In terms of starting point when dealing with our customers, we at Crayon make sure they make qualified decisions and optimise investments against RoI decision. You want to make sure that — while fundamentally, IT improves productivity and RoI — you are not overinvesting," said Takle.
This, he said, is achieved via a two-pronged implementation. "There are always low-hanging fruits. In a short-term engagement — say three to four months — we can help customers optimise the current spent-base, reducing their software spending by 20% to 30%.
"However, you don't only want to do short-term optimisation because that might not be in sync with your long-term goals. More importantly [you need] to improve your RoI and business value when investing more in the right way," he said.
How much improvement can be seen in the long run? Crayon claims that with continued engagement, its clients typically have 50 times or more RoI on their spending for the firm's expertise.
To achieve that, Takle said Crayon combines three pillars — understanding of a company's business aspect, technical IT capabilities, and understanding of the global licensing software landscape.
The firm is Microsoft's seventh biggest software asset management partner globally. It also offers cloud computing solutions from Amazon Web Services, and has inked a partnership with Google this year.
Takle said that contrary to what many top managements think, the last pillar is crucial, as future changes in the road map of a hyper-scale software vendors such as Microsoft or Google will impact investments that were made earlier.
"You really need to know what's happening in the next few years, otherwise clients will be investing in something that will have a new release coming sooner rather than later.
"There is so much optimisation to be done by assessing procurement regime, different price lists, currencies different that you're almost blindfolded if you do not have the global position and the global relationship with software vendors," he added.
Takle said many companies in markets in which Crayon operates have strong capabilities in either or both of the first two pillars, but not the third.
"In that sense, we build the bridge between decision-makers from the business side — such as marketing or human resource — to work better with the internal IT team for a successful digital transformation," said Takle.
This, Takle said, is where emerging countries like Malaysia, the Philippines or Indonesia where Crayon is in, provide a tremendous opportunity. "The biggest market in Malaysia for us is the captive market, or companies that are trying to solve these themselves.
This is the reason why we continue to invest.
"Companies that have already outsourced support is a fairly small portion [of the total market size], but I would say we are a dominant player in that segment," he said, pointing to how Crayon's Malaysian unit has grown from zilch to generate a top line of around RM100 million in its third year.
The Malaysian arm now holds up to 90% market share in the education sector, with strong presence in some of the country's key industries, including banking and aviation.
In line with the market opportunity here, Takle said Crayon is currently doubling its Malaysian headcount from around 30 personnel, with inorganic growth in the pipeline — thanks to the financial flexibility that came along with the relisting of its parent company on the Oslo Stock Exchange last month, which raised some US$50 million (RM206 million).
"We are currently assessing if there are any right acquisition candidates. We believe there are opportunities to create a stronger team together," he said, hinting that Malaysian companies are capable of assessing the business models and IT capabilities, but lacking access to analyse the global roadmap of hyper-scale vendors.
阅读更多